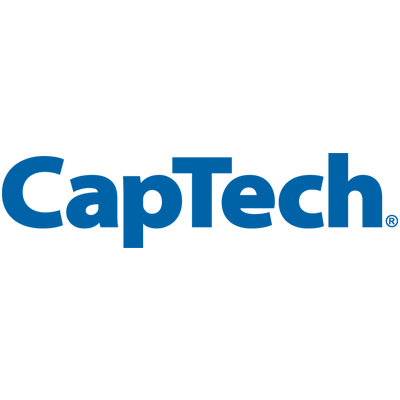 Overview:
About CapTech
CapTech is a national IT management consulting firm that bridges the gap between business and technology. We partner with some of the world's most successful companies to design, develop, and manage technical and digital solutions that delight customers, drive insights, and meet strategic objectives. We are passionate about innovation to drive growth.
We are not your normal design agency or development shop.
Our customer experience team and designers observe, measure, and learn from their expectations and behaviors, before investments in code and engineering are made. Fusing compelling user interface design with reliable execution, we produce brand experiences that surprise and delight customers, deliver business value, and generate brand loyalty. 
Our software engineers are more than just developers, we are trusted advisors to our clients. Where other firms just dive into the work, we listen to our clients' needs and partner with them to build custom applications that add business value, delight customers and perform. Our teams are full-time employees and are 100% dedicated to a single engagement at a time. We build our teams based on your specific project needs including: 
Designers
Strategists
Architects
Software Engineers
Project Managers
Systems Analysts
History
The company was founded in Richmond, VA in 1997 and now has locations in Atlanta, Baltimore, Charlotte, Chicago, Columbus (Ohio), Denver, Orlando, Philadelphia, San Francisco, and Washington DC. Inc. Magazine has recognized CapTech on their Inc. 500/5000 list of fastest growing private companies for 11 years.
Clients
Our client portfolio includes 35 Fortune 500 companies, 11 state governments, 4 of the 5 largest US banks and 3 of top 5 global hotel chains. Our clients span healthcare, energy, food and beverage, transportation, technology, consumer packaged goods and retail.
Quick Facts
Column 4
Product Expertise:
Acquia Cloud Platform
Adobe Analytics
Adobe Audience Manager
Adobe Campaign
Adobe Experience Manager
Adobe Experience Manager Assets
Adobe Media Optimizer
Adobe Social
Adobe Target
Bloomreach
DotCMS
Drupal
Google Analytics
IBM Business Process Manager
IBM Cloud
Microsoft Dynamics 365
OpenText Experience Cloud
Oracle Eloqua
Salesforce Commerce Cloud
Salesforce DMP
Salesforce Marketing Cloud
Salesforce Pardot
Salesforce Sales Cloud
Salesforce Service Cloud
Salesforce Social Studio
Sitecore Experience Platform
Umbraco
WordPress