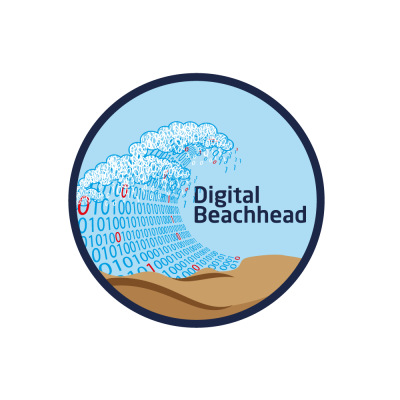 Overview:
The term Digital Beachhead was coined by our Co-Founder/CEO in 2005 on a Military Performance Report and later used in 2008 by United States Deputy Secretary of Defense William J. Lynn III in reference to an intrusion into Department of Defense Information Systems. He said "That code spread undetected on both classified and unclassified systems, establishing what amounted to a digital beachhead, from which data could be transferred to servers under foreign control".  Unlike traditional "Beachheads" which have a specific point of presence the "Digital Beachhead" is everywhere Information Technology exists.   This new cyber domain does not have "front lines" to defend but multiple attack vectors.  Digital Beachhead can be your partner helping you bolster your cyber risk management, defense in depth strategies.  
Digital Beachhead Inc is a Certified Service Disabled Veteran Owned Small Business as defined by the Small Business and Veteran Administrations. We seek to build customer trust and corporate value by delivering Cybersecurity and Consulting Services Solutions in inventive economical ways. This is accomplished by maintaining high personal  and professional standards in service, reliability, innovation and cost control for our customers.  Our goal is to provide the right services at the right price, at the right time while implementing an open, sharing corporate culture. We will enable our customer's success through competitive pricing, tailored solutions, and interactive relationships.   
Digital Beachhead provides full-spectrum Cyber Risk Management Services to include; Virtual Chief Information Security Officer (vCISO), Virtual Chief Information Officer (vCIO), DFARS NIST 800-171 Compliance Support, CMMC Support (Certified 3CPAO), Cyber Risk Assessments, Penetration/Vulnerability Testing, 24/7 Systems Monitoring, Executive Cyber Training, Employee Cyber Awareness Training and Governance compliance (CMMC, HIPAA, NIST, Etc)   We have extensive experience within the Federal and Commercial market space with a long and personal history supporting the Department of Defense and other Federal Agencies. Digital Beachhead has focused that experience to expand our services into the commercial market supporting small to medium sized businesses.  
Our commitment to the customer is to satisfy requirements after establishing a strong rapport and relationship which facilitates the exchange of technical information leading to a solid implementation of the final technical solution.   
Office Locations: Colorado Springs, Colorado (HQ) - Fairfax, Virginia - Las Vegas, Nevada - London Ontario, Canada